GER 30 seeks floor amid sell-off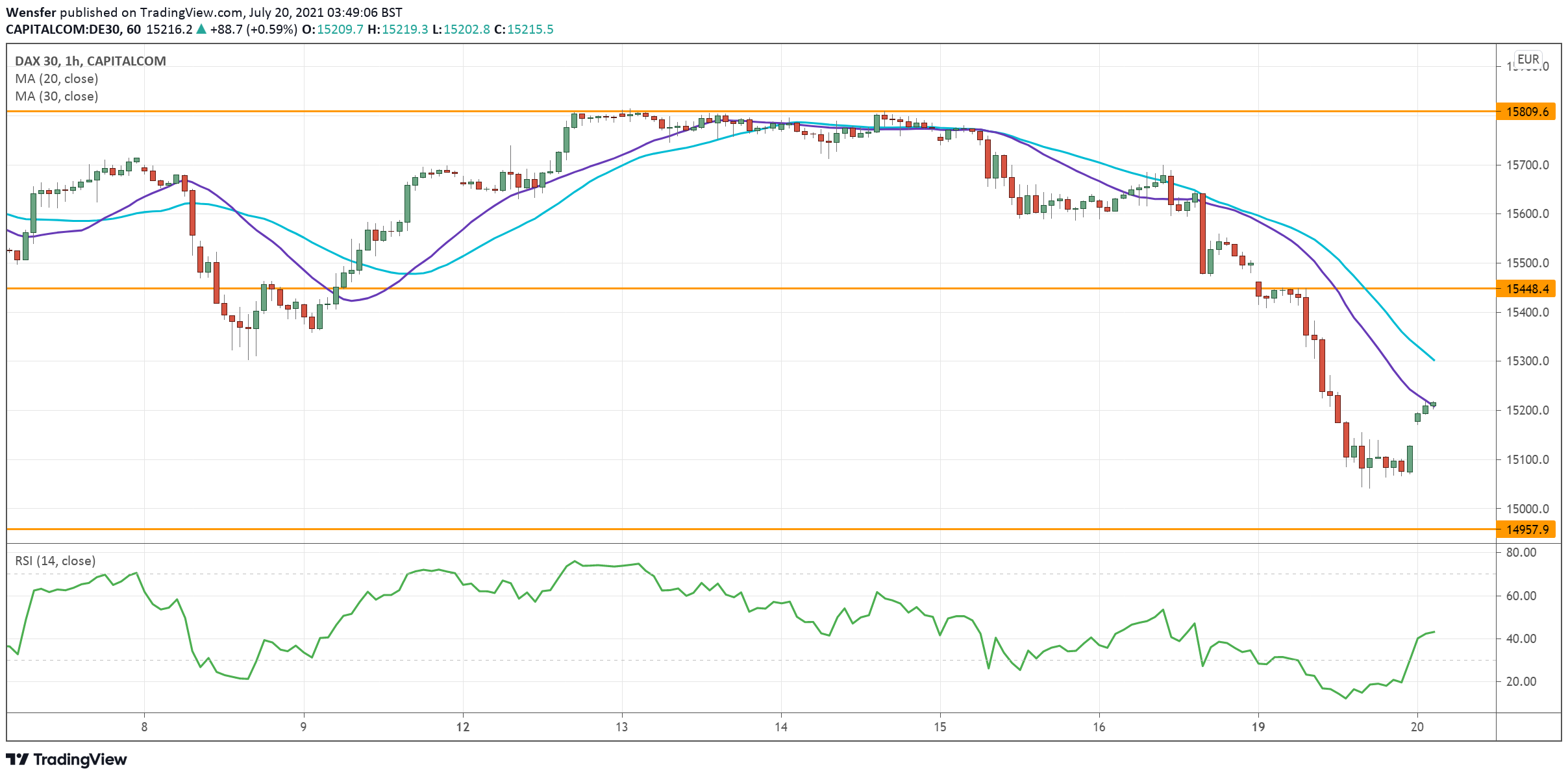 Stock markets plunge as investors worry that the spread of the Delta variant could derail the recovery. The DAX 30 had struggled to hold above the previous peak at 15800.
Successive breaks below 15640 then 15370 are indications of profit-takings for a lack of commitment by the bulls. 14950 is a major support on the daily chart, a bearish breakout could sap the two-month-long rally and trigger a deeper correction.
Early bulls may be tempted to buy the dip with a depressed RSI but 15450 is to crack before a meaningful rebound.
GBPUSD tests major support
The pound tumbles as the end of Covid restrictions in the UK rhymes with soaring infections. Sterling had struggled to stay above 1.3900. The break below 1.3670, a critical support from the daily chart indicates that sellers have the upper hand.
1.3570 would be the next target as more sellers join the downtrend. The RSI is inching back to the neutral territory. A limited rebound could be seen as an opportunity to sell into strength.
The support-turned-resistance at 1.3780 would be the first to check the pair's advance.
USOIL sinks into correction
Oil prices fell after OPEC+ members agreed to raise output amid uncertain demand. The break below 71.00 was an invalidation of the latest rebound.
After buyers have bailed out, the sell-off cut straight through the psychological level of 70.00. Momentum players have pushed to test the daily demand zone around 66.00.
Its breach could deepen the correction to 63s. The RSI has sunk deeply into the oversold area but the sentiment remains bearish as long as the price is under 71.30.
This information has been prepared by Orbex, a trading name of Orbex Group Limited. DrForexOfficial, will not accept liability for any loss or damage, including without limitation any loss of profit, which may arise directly or indirectly from use of or reliance on such information.
Join Orbex and for all the support you need from an award-winning Forex Broker - https://bit.ly/2PsTjKM. Click here to join our telegram channel (t.me/DrForexOfficial1) and stay updated with the latest headlines.